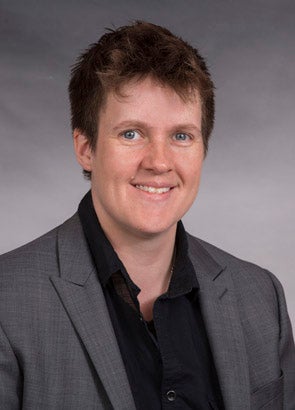 Cam Brinkworth serves as UCAR's chief diversity and inclusion officer. She holds a doctoral degree in astrophysics and a master's in education, which she earned after writing her final thesis on creating more welcoming and inclusive environments in STEM higher education for LGBTQIA students, staff, and faculty.
Cam is the recipient of four National Science Foundation grants to increase diversity and inclusion in the geosciences; has provided diversity and inclusion professional development for NCAR, UCAR, and wider geoscience communities; and currently serves on the American Meteorological Society's Board on Women and Minorities and on the Association of Universities for Research in Astronomy's Workforce and Diversity Committee.
Cam was on the organizing committee for the Inclusive Astronomy 2015 meeting that developed comprehensive and groundbreaking recommendations for increasing diversity, equity, and inclusion in astronomy, with a strong emphasis on intersectionality. These recommendations are now being adapted to the geoscience community in collaboration with the American Meteorological Society.
In 2013, Cam was honored with the NASA Equal Employment Opportunity Medal "for outstanding leadership, dedication and commitment, volunteerism, mentoring and coaching of underrepresented student groups through science education workshops and programs."
Cam is particularly enthusiastic about ensuring the development of warm, welcoming, and inclusive workplace and departmental climates and about intersectional ways of addressing social justice issues in the work environment. She believes that UCAR and NCAR have a responsibility to ensure that everyone in our organization feels safe and welcome to bring their full selves to work, and that diversity and inclusion are absolutely critical in supporting the organization's mission. 
Contact Cam Brinkworth
carolyn@ucar.edu
303-497-1670