Published February, 2017.
Gregory Jenkins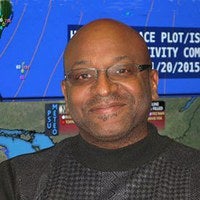 Gregory Jenkins is currently a professor in the Department of Meteorology at Pennsylvania State University and director of the Alliance for Education, Sciences, Engineering, and Development in Africa (AESEDA) in the Office of Global Programs. He received a B.S. in physics from Lincoln University and his master's and Ph.D. degrees in atmospheric and space sciences from University of Michigan. After receiving his Ph.D. he spent two years here in Boulder working at NCAR as a postdoctoral fellow with the Advanced Study Program.
In a conversation with Jenkins, he recalled a lecture he attended on Martin Luther King Day by Warren Washington during graduate school that served as a turning point for him in terms of how he saw his role in the field of atmospheric sciences . Washington was the first African American atmospheric scientist that that Jenkins had ever met, and he felt truly inspired by this encounter. After this, Jenkins began to work with many scientists and develop his passion for understanding that there is more than just science in his work; there is a human aspect to the work he does. It's not just about numbers; it's about people and the world we live in.
Jenkins served as a mentor for many West African scientists who are now chairs and senior scientists in their own programs and institutions. He describes his career as being centered around giving back. He gives back in the work he does in West Africa and he gives back to the many students he mentors in the United States. Jenkins works with students from underrepresented backgrounds to help them find success in the atmospheric and geo sciences, while also instilling a sense of duty to give back to the communities these students come from. In these mentoring relationships, he describes the main questions he works to answer:  "What can I do to address these issues? How can i impact the community? How can I get students who are from underserved areas to go back to those communities and give back?"
Jenkins has done a lot of work around West Africa around climate change and hazards in underserved areas. After his time doing a Fulbright in Senegal, he felt more engaged and a greater responsibility to work to improve the lives of people through his expertise and modeling. In the last three years, Jenkins has been working to limit impact of hazards on West African islands, specifically Cape Verde where Hurricane Fred hit the country in 2015, leading to significant damage. This information is crucial in helping the population of Cape Verde to understand and prepare for future tropical disturbances. Along coastal West Africa, fishing villages also experienced great devastation with Hurricane Fred and this was largely due to the lack of information regarding the type of weather that was likely to occur.
In addition, Jenkins studies Saharan dust events, which could be responsible for spreading respiratory disease. He works with scientists and doctors to measure dust samples, trying to make connections between big dust events in order to help the communities living in West Africa. Jenkins identified the need for greater monitoring poor air quality storms to further see if the models can accurately predict the events. He states that the potential problems are so much bigger than the science he does -- people's livelihood, keeping communities together, and addressing how people deal with environmental factors in a growing population and any potential impacts are all important aspects that need to be considered.
Jenkins is doing great work and it is all guided by this thought he had back in 1989 of "ok, I am going to do more." He is not only committed to gathering information, but also to using this information to have a positive impact and influence on the communities he serves -- here and abroad -- and to the younger generation.
Thanks to Dr. Jenkins for collaborating with UCAR Office of Diversity, Equity, and Inclusion on this profile. 
Vernon Morris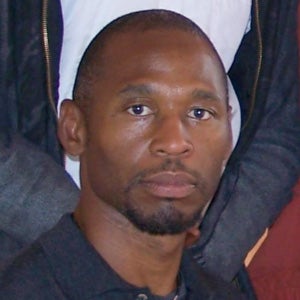 Vernon Morris was born to an Air Force family in San Antonio, Texas, and moved around quite a bit through high school. He finished high school in eastern Washington State (Spokane) and then crossed the U.S. to attend the all-male, historically black, liberal arts college Morehouse College in Atlanta, Georgia. Morris remained in Atlanta to attend Georgia Tech in the School of Earth and Atmospheric Science, where he was the first African American to receive a Ph.D. in this program. Morris completed a postdoc at Lawrence Livermore National Labs and UC Presidential Postdoctoral Fellowship at the University of California, Davis.
Morris describes several of his advisors as inspirations and motivators for his field of study and the work he does today. Morris was initially motivated to study atmospheric chemistry by his undergraduate advisor, John Hall. One of Morris' doctoral advisors, Doug Davis, also encouraged Morris to continue in the field and couple field measurements to laboratory studies of tropospheric chemical processes. Most notably, Morris' postdoc advisor influenced his perspective on connecting physical chemistry to extraterrestrial atmospheres, and inspired him to think beyond convention- gaining comfort in intellectual independence and following his own academic path.
At present, Morris is on the NOAA Ronald H. Brown leading a pilot study on the aerobiology and aerosol composition in the Southern Atlantic Ocean. This is the first leg of a two-leg field study. The second leg will focus on the transport and evolution of mineral dust particulate (with focus on Saharan dust) over the tropical Atlantic Ocean. This is the eleventh in a series of field observations known as the AERosols and Oceanic Science Expeditions (AEROSE) that he has led since 2004. The primary objective is to develop a better understanding of the transport and evolution of atmospheric aerosols of African origin during long range transport across the ocean. These studies investigate their physical, chemical, and microbial characteristics as a function of source region, atmospheric lifetime, and mixing state. Other objectives include satellite validation and investigation of regional weather and climate impacts from these aerosols. He and his team have published several papers on this topic in the Bulletin of the American Meteorological Society, Journal of Geophysical Research, and Geophysical Research Letters, to name a few.
Morris is a professor of chemistry and atmospheric sciences at Howard University and director of the NOAA Cooperative Science Center in Atmospheric Sciences and Meteorology (NCAS). He founded and currently directs the graduate program in Atmospheric Sciences at Howard University. Along with several other faculty members, Morris helped build a program that over the past twenty years has produced more PhDs of color in this field than the combined total from all other programs in the U.S. The graduates of this program have over 90 percent rate of placement in their field of study and they continue to attract and produce high-quality graduates, maintaining one of the (if not the) most diverse graduate programs in atmospheric sciences in the nation.
Morris and his colleagues have established pipeline programs to atmospheric sciences through their network of summer programs at the undergraduate and high school levels (the CAREERS program) and the alumni from these programs are now beginning to populate various academic (undergraduate and graduate) and REU programs across the nation as well (e.g. SOARS, Oklahoma University, Colorado State University, Purdue University, Texas A&M). The aim that they set out for is coming to fruition in that more students are entering and staying in the pipeline through these programs.
Morris hopes that both his science and educational outreach improves the discipline. The AEROSE observations have already led to improved products for NOAA operational models and satellite retrievals. He would like to see more assimilation of these data for model improvements and forecast products that protect human health and food security. Morris and his colleagues have developed a model for inclusiveness within their academic program and he hopes that more academic and research institutions, like NCAR, develop the capacity to become more inclusive as well.
Thanks to Dr. Morris for collaborating with UCAR Office of Diversity, Equity, and Inclusion on this profile. 
Additional resources: Black History Month
Seeing White- Chapter 2: This is a chapter from a book titled Seeing White which discusses race as a social construct. 
The Talk - Race in America: is a documentary by PBS that discusses the difficult conversations more and more parents of color (especially Black parents) need to have with their children to teach them how to have safe interactions with police officers.
13th - a Netflix documentary: 13th is an Academy Award nominated documentary on how the 13th amendment has lead to the rapid growth of the prison industry in America and mass incarceration of Black communities and communities of color. This is a great synthesis of history and testimony to illustrate the path from slavery to the current day events. *If you have a Netflix account you can log in and watch it. If you are interested in watching this, but don't have a Netflix account please contact Kristen and we can try to setup a showing. Information here
Black Light: a project created to provide resources and reflection on the Black Experience in America. This is a projected started for Black History Month with a new posting every day including readings, podcasts, videos, and conversations. Start at the bottom of the page to read the posts in chronological order.
Presumed Incompetent: This is the social media site associated with the book of the the same title, which explores the intersecting roles of race, gender, and class in the working lives of women faculty of color. There are personal stories and empirical studies included in the book. The social media page posts articles, stories, and videos highlighting a lot of these issues as they are happening in our society.
For Harriet: is an online community for women of African ancestry, celebrating the fullness of Black womanhood. The organization seeks to encourage women through storytelling and journalism to provide a thoughtful, collaborative alternative to mainstream media representations of Black womanhood.
Vanguard Stem: is a monthly web-series that features a rotating panel of women of color in science, technology, engineering and math (STEM) as well as blog posts about experiences, research, advice, and current events in the field.
NSF Study: statistics and report highlighting the representation of women, minorities and people with disabilities within various fields of study.
Being Black - but Not Too Black - in the Workplace: An article discussing what it is like to be Black in the work force and the added challenges and expectations that need to be met solely because of the color of one's skin.