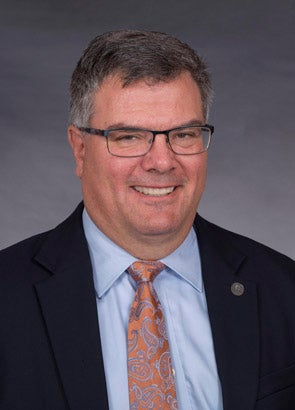 Scott Rayder, senior advisor to the UCAR president, is an expert on building new opportunities and funding for scientific organizations.
He has extensive experience in building relationships and opportunities with the private and public sector, including longstanding relationships with federal funders, such as the U.S. Department of Energy, National Science Foundation, National Oceanic and Atmospheric Administration, U.S. Geological Survey, and National Institute of Standards and Technology.
Before coming to UCAR, he was director of business development for civil sector programs at ITT Exelis. There Rayder worked with officials in the federal executive branch as well as Congress, focusing on Exelis programs supporting weather forecasting, climate monitoring, and environmental analysis.
Rayder was the first chief of staff of the National Oceanic and Atmospheric Administration (NOAA), from 2001 to 2008. He worked with NOAA's partner organizations and played a key role in communicating NOAA priorities to the Department of Commerce, White House Office of Management and Budget, and Congress.
Rayder served as lead on the Hurricane Forecast Improvement Program at NOAA and was instrumental in introducing new technologies and unique observational platforms, such as unmanned aerial vehicles (UAVs) and the Integrated Ocean Observing System, to support research and operations related to climate, oceans, and high-impact weather. His work there also supported the needs of operational and research organizations for critical assets and infrastructure.
Rayder earned a master's degree in public administration (with a concentration in science and technology policy) in 1992 from the Maxwell School of Citizenship and Public Affairs at Syracuse University. His undergraduate degree in government and geology is from Hamilton College, New York.
Contact Scott Rayder
rayder@ucar.edu
303-497-1673